With so much uncertainty our teams who normally are playing games, readying themselves for playoffs at this time still have hope and goals that have costs. If you can give even a little, please do it now. Thank you for your Jaguar support. *Decisions regarding Fall Sports scheduled by CIF to begin December 7th still TBD while we remain in purple tier.
https://twitter.com/windsorjaguarf1/status/1325686330513219585?s=21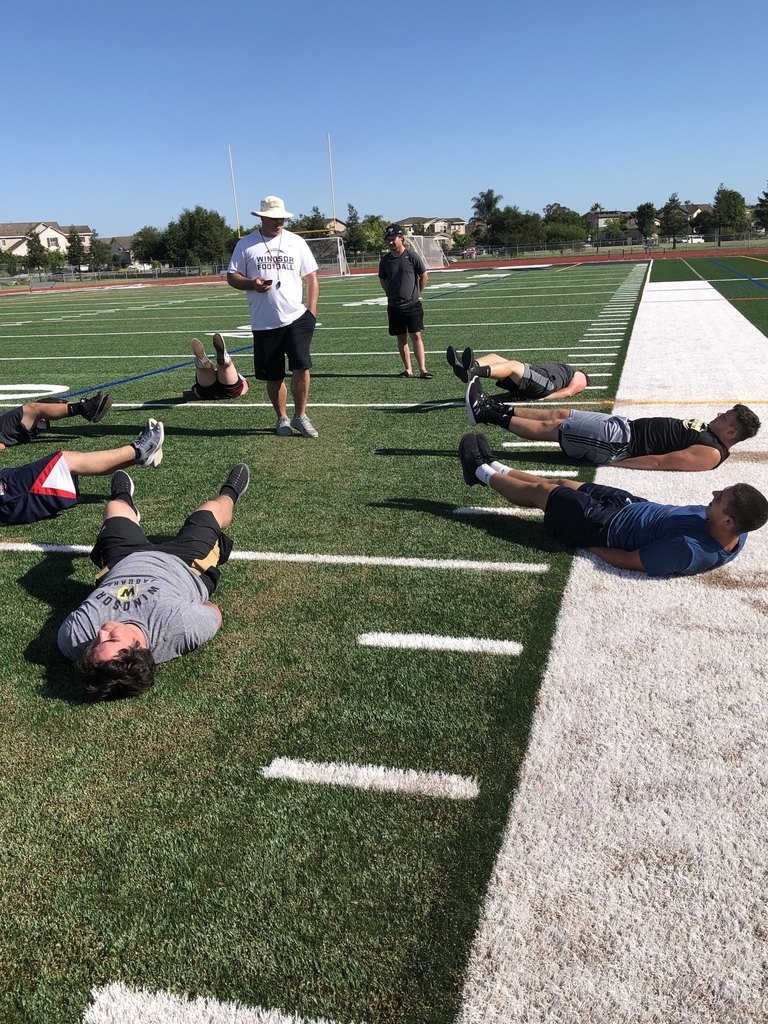 Reminder - WHS Office Closed & No School on Friday, October 16th. It's a Professional Development Day for teachers. Enjoy your day off!

Junior and Senior Student-Athletes Alert! NCAA Eligibility Center is hosting a Webinar on November 7th at 2pm. Follow this link to register and get more information.
https://tinyurl.com/yy4keplj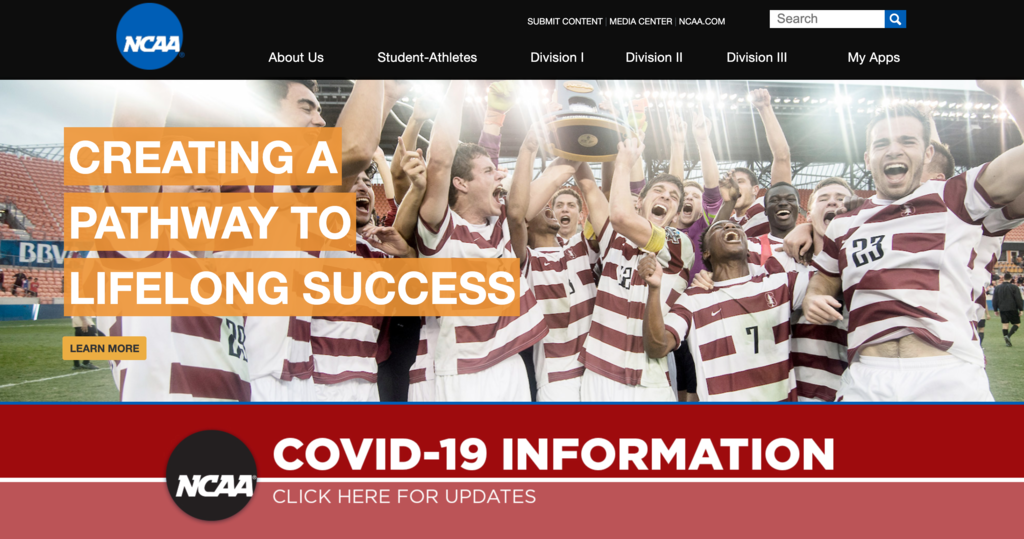 The last date for a student to drop a class will be October 15, 2020. La última fecha para que un estudiante deje una clase será el 15 de octubre de 2020. Dr. Lamar Collins, WHS Principal

Hello parents, this is Dr. Collins again. I want to share a few updates with you. Let's start with pictures. Wednesday, sophomores and juniors will take pictures from 10:00-3:00pm. If your student still needs books, please contact our librarian and schedule an appointment. This is the final week of the first 6 weeks of school. Please check your student's grades. If you have noticed your child struggling emotionally, please refer him/her to our counselors by clicking this link If you are struggling emotionally, I want to encourage you to click this link. Hola padres, soy el Dr. Collins de nuevo. Quiero compartir contigo algunas actualizaciones. Empecemos por las imágenes. Los miércoles, los estudiantes de segundo y tercer año tomarán fotografías de 10: 00-3: 00pm. Si su estudiante todavía necesita libros, por favor comuníquese con nuestro bibliotecario y programe una cita. Esta es la última semana de las primeras 6 semanas de clases. Por favor revise las calificaciones de su estudiante. Si ha notado que su hijo tiene dificultades emocionales, refiéralo a nuestros consejeros haciendo clic en este enlace. Si tiene dificultades emocionales, quiero animarle a que haga clic en este enlace.

E-Sports is Back! Email Coach Evans for information and join us for an info night on Sept 18.
whs-esports@wusd.org
¡E-Sports ha vuelto! Envíe un correo electrónico al entrenador Evans para obtener información y únase a nosotros para una noche informativa el 18 de septiembre.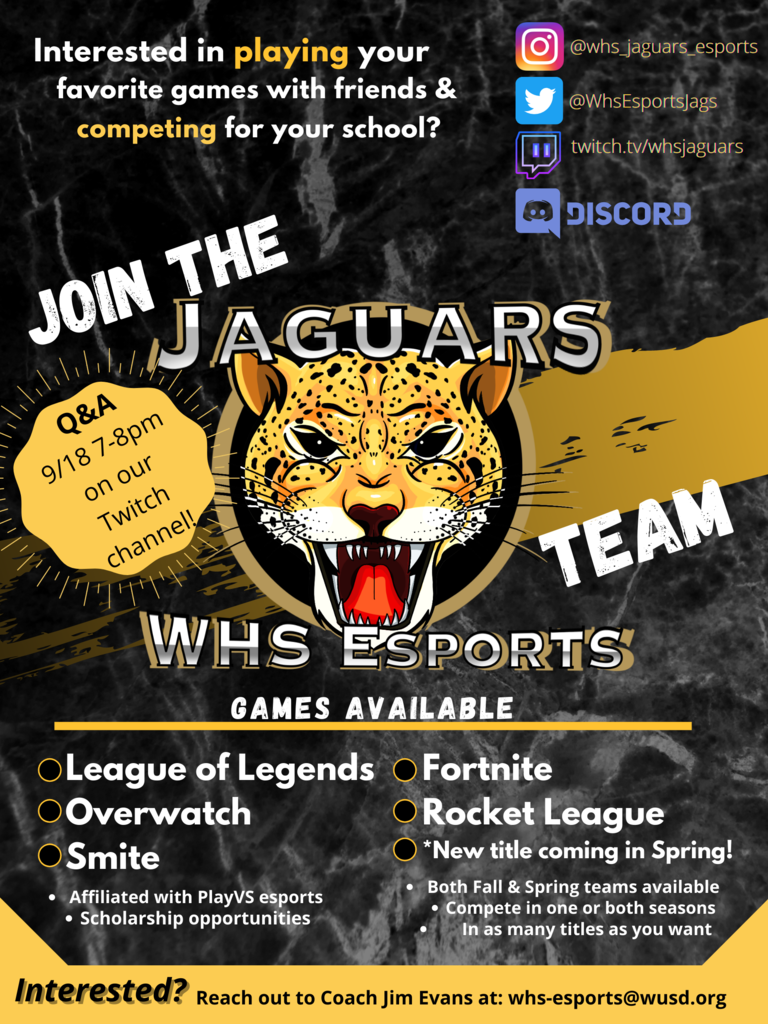 Jag swag is here! Check it out before the store closes, September 18. Activewear, PE clothes and spirit too! All sales go back to ASB. ¡Jag swag está aquí! Compruébalo antes del cierre de la tienda, el 18 de septiembre.
https://www.bsnteamsports.com/shop/WHSJAGS1

Girls Golf will be in Spring 2021 this school year! Connect with your golf coaches now for pre-season activities. Coach Joe Stadum- girls golf
jstadum@wusd.org
Coach Jason Fayter- boys golf
jfayter@wusd.org
Open course time coming soon!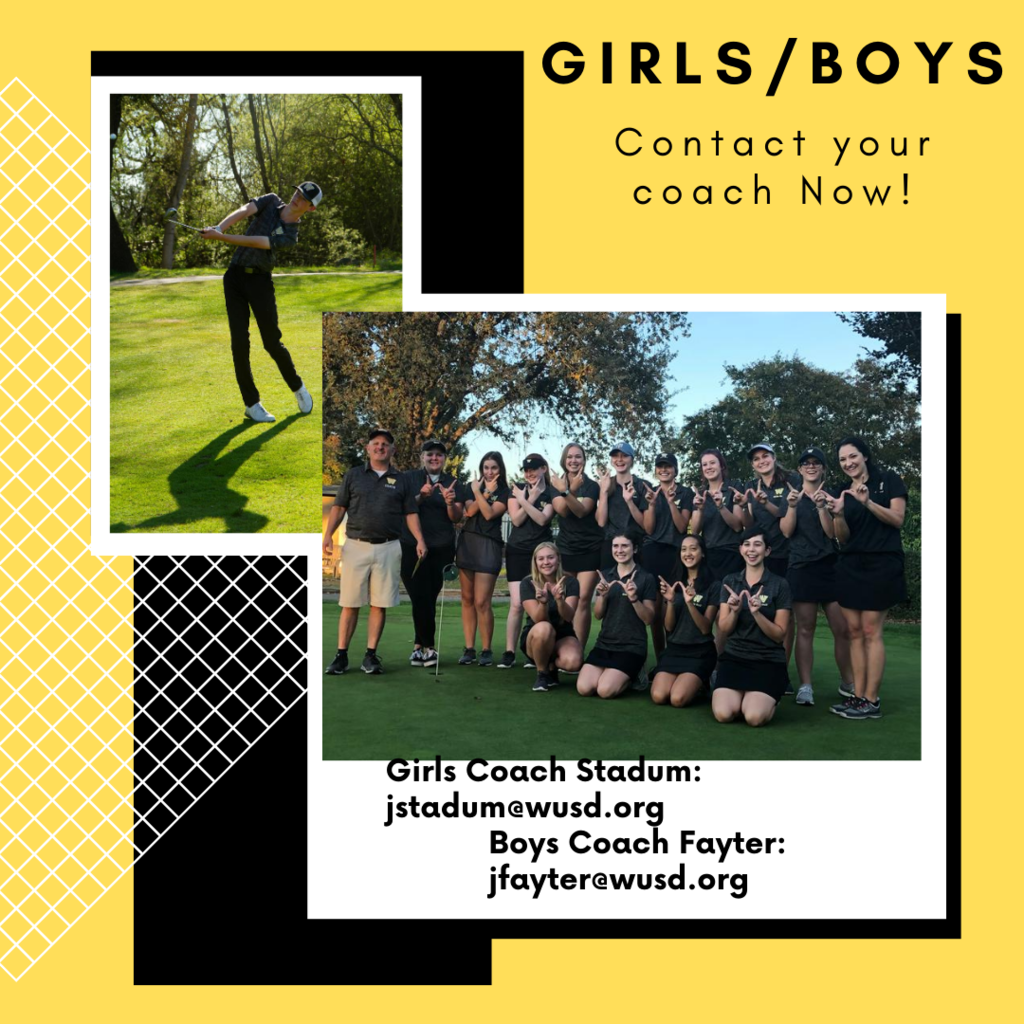 Parents students will be sent a link tonight to request books. Please be sure they communicate with their teachers and request the appropriate books and make an appointment to pick them up. Thank you. Dr. Collins
Los padres de los estudiantes recibirán un enlace esta noche para solicitar libros. Por favor asegúrese de que se comuniquen con sus maestros y soliciten los libros apropiados y hagan una cita para recogerlos. Gracias. Dr. Collins
Hello parents. We are aware of the challenges facing our community. Our superintendent Mr. Decker is tracking the weather in our area and will make a decision tomorrow via text message and email . Please stay tuned to your text messages and emails. Hola padres Somos conscientes de los desafíos que enfrenta nuestra comunidad. Nuestro superintendente, el Sr. Decker, está rastreando el clima en nuestra área y mañana tomará una decisión por mensaje de texto y correo electrónico. Esté atento a sus mensajes de texto y correos electrónicos.