Cali: Parents please vote for up to 5 parents on our Governing Council 2019-2021 ballot by Friday, Sept. 20. Padres y madres, por favor vote por hasta 5 en la Papeleta Electoral del Comité Asesor de la Escuela 2019-2021 a más tardar el 20 sep.
https://forms.gle/S94aabdoihMvS4h9A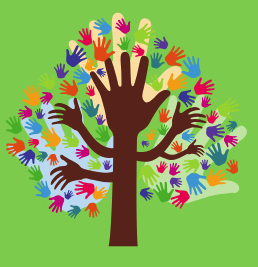 Cali: Don't forget to sign up to volunteer for the Move-a-thon on September 28, 2-5pm. Thank you! No se olvide de inscribirse para horas de voluntariado para el evento Move-a-thon el 28 de septiembre, de 2 a 5 pm. ¡Gracias! Sign up / Inscribirse:
https://signup.com/go/NjRsvNt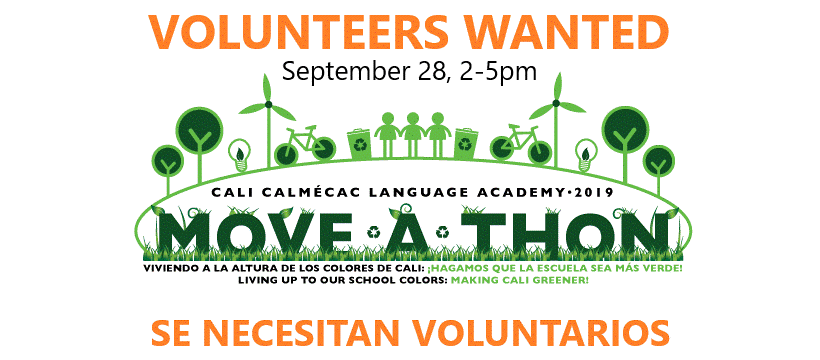 WUSD School Board Congratulates our newest Permanent Teachers at the September 10, 2019 Board Meeting. Pictured from left to Right: Jillann Humphrey, Amanda Horsburgh, Emily Gholson, Kimberle Hoff, Heather Kristensen, Catherine Miroballi, Shanae munro and Sherri Rodriguez. Unable to attend: Karen Brown, Ryan Cameron Hole, Henry Hasegawa and Kenzie Holcomb.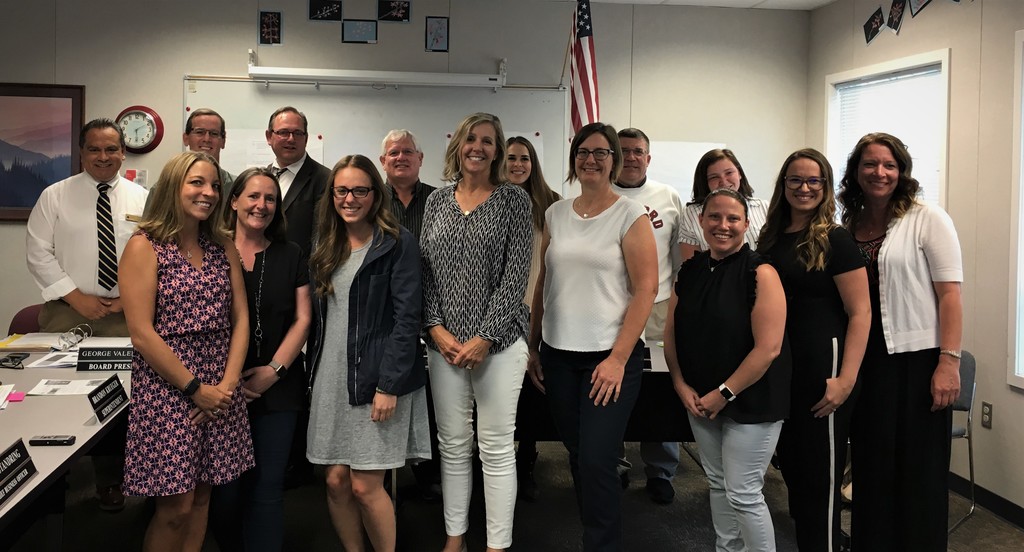 Cali: Today, Tuesday, is Dine & Donate at the Windsor Panda Express! 20% goes back to Cali PTA. Pre-order online or go in person. ¡Hoy es Dine & Donate en Panda Express! El 20% se donará a Cali PTA. Ordene de antemano en línea o puede ir en persona. GRACIAS!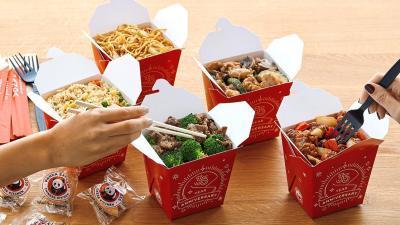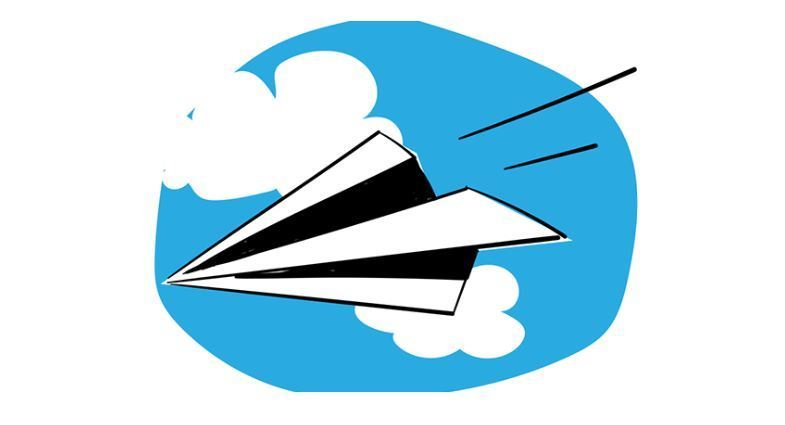 Cali: Picture Day is TOMORROW for grades 3-5. For grades K-2nd, it is Friday. Please see details using the link below. MAÑANA será el día tomar la foto para los grados 3-5. Para los grados K-2do, será viernes. Más detalles:
http://calicalmecac.org/content/picture-days-2019

Cali: September newsletter! Please take a look. Volunteers needed in room 43 tomorrow at 8:30am to staple the paper version. El noticiero de septiembre! Eche un vistazo. Necesitamos voluntarios mañana para engrapar la versión en papel a las 8:30am, salón 43.
https://5il.co/9x00

Employment Opportunities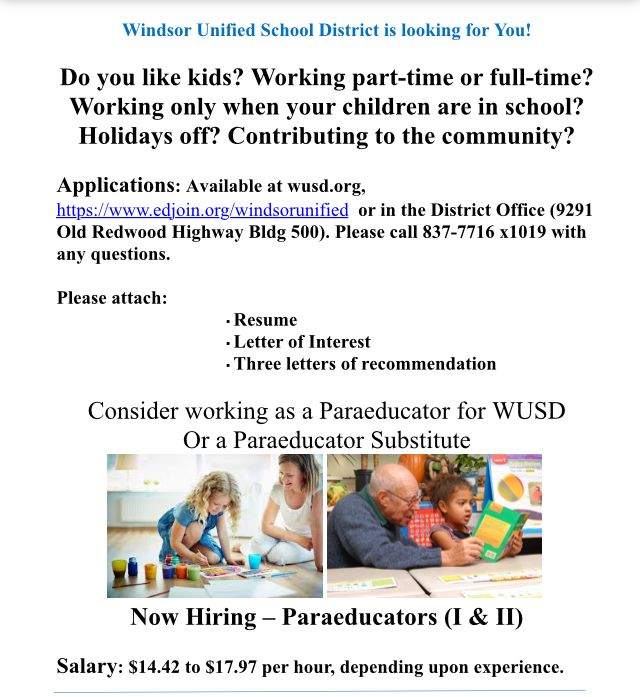 Cali: Would you like to be on our CCLA Governing Council? Please use this link to find out more. ¿Le gustaría formar parte del Comité Asesor de nuestra escuela? Utilice este enlace para obtener más información.
https://forms.gle/i5Rw3X9R6S5bc3kLA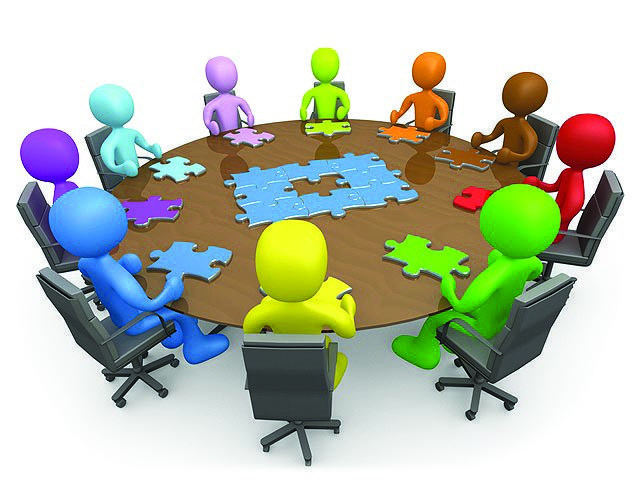 Cierre de CCLA esta mañana. Todos estamos seguros. El sospechoso ha sido detenido. Por favor vea su correo electrónico para más información.

CCLA lockdown this morning. All is safe. Suspect has been apprehended. Please see your email for more information.

Cali: Please take a look at the calendar: Spirit wear, Coffee with Principal, Move-a-thon meeting, Back-to-school. Eche un vistazo en el calendario para la semana que viene: Venta de ropa, Café con la Directora, Regreso a la Escuela, Junta de Move-a-thon.
http://bit.ly/2L8jP5E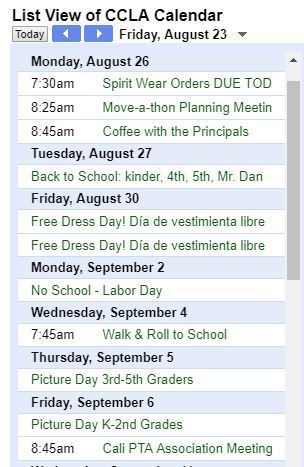 Cali: Please read this letter from our principal regarding the uniform policy that should be followed by all students. Por favor lea esta carta de la directora que se trata del código de uniformes que los estudiantes deben seguir.
https://5il.co/9m9p

Cali: Bienvenidos! El primer timbre sonará a las 8:20am. Una vez que entren los niños a clase invitamos a los padres a tomar un café con PTA. Donde dejar/recoger los niños:
https://5il.co/9g65
Mañana es un día CORTO. Kinder sale a las 12:55pm, 1ro-3ro 1:05pm, 4to-8vo 1:55pm.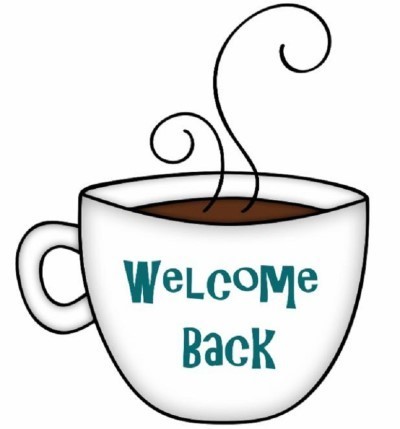 Cali: Welcome back! The first bell rings at 8:20am. Parents are invited to have coffee and a treat with PTA once class starts. More drop-off and pick-up info:
https://5il.co/9g65
Remember, tomorrow is a MINIMUM DAY. Kinder gets out at 12:55pm, 1st-3rd 1:05pm, and 4th-8th 1:55pm.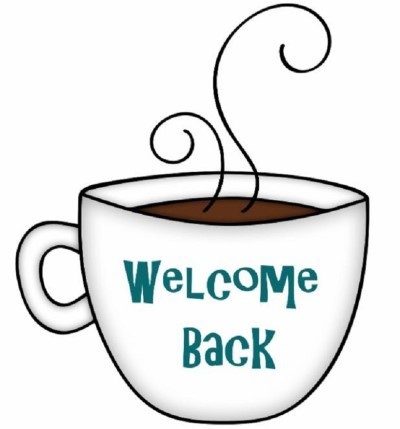 Cali: It's almost time to see each other again! Here is a letter from our principal and a link to the supply lists. ¡Nos veremos muy pronto! Aquí verá una carta de la directora y una lista de útiles. Letter/Carta:
https://5il.co/99ms
Materials/útiles:
http://bit.ly/33cQAqJ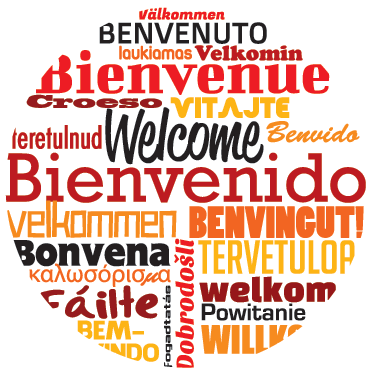 Cali: Grades 6-8...mark your calendars! Orientation AND Back-to-School on August 12th. Students AND parents please come! Grados 6-8...anoten la fecha! La orientación y Regreso a la Escuela serán el 12 de agosto. Esto es para alumnos y sus PADRES. More / más:
https://5il.co/97qj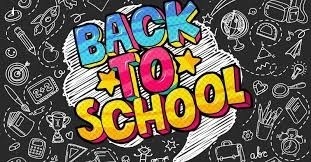 Cali: Come work with us! Aug 3, 7-10am to paint and weed & Sat, Aug 10, 9-11am. Bring gloves and tools for weeding and shoveling. ¡Acompáñenos los próximos dos sábados, 3 agosto, 7-10am para pintar y desmalezar y 10 agosto 9-11am. Traiga guantes y herramientas para jardinería.

The Board Meeting originally schedule for tonight, June 11, 2019 has been cancelled and rescheduled for Monday, June 17th, at Windsor Middle School Library. Closed Session will begin at 5:30. Open Session will begin at 6:00. We apologize for this late notice of continuance.

Cali:¡Mañana es un día mínimo para todos y día de vestirse libremente! Aunque es el último día de clases, no dejen de leer en casa este verano. El programa de lectura de verano comienza este sábado 1 de junio en las bibliotecas públicas. sonomalibrary.org/summerreading2019