YEARBOOKS: Time to pre-order!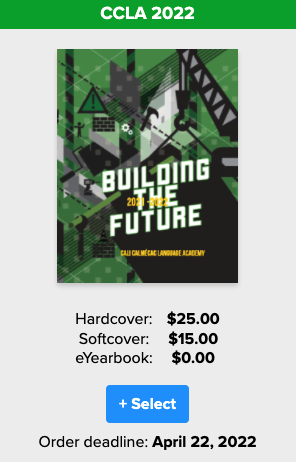 Please order your yearbook by April 22.
Big change: We will NOT order extra books to sell at the end of the year. You must pre-order. If you order late, you can still get one, but it will cost more and it will get mailed to your house possibly after school is out.
ORDER->>>>>>> store.shopyearbook.com/CCWindsor
Do you have pictures?
If you have pictures of school activities, please share them with us! Use this link to upload photos.
---
El Anuario: Ordenarlo ahora
Gran cambio: Este año NO ordenaremos libros adicionales para vender al final del año. Debe hacer un pedido anticipado. Si ordena tarde, aún puede obtener uno, pero le costará más y se lo enviarán por correo a su casa posiblemente después de que termine la escuela.
ORDENAR->>>>>>> store.shopyearbook.com/CCWindsor
¿Tiene usted fotos para compartir?
Si tiene fotos de sus estudiantes participando en actividades escolares, ¡compártalas con nosotros! Utilice este enlace para enviar fotos.