Due to an unforeseen staffing emergency, District-provided transportation will be delayed today, Jan. 21 by up to 15 minutes. If this delay is problematic, you should be prepared to make alternate arrangements to pick up your child. If anything changes, we will update you with more details as soon as we have more concrete information. Debido a una emergencia de personal imprevista, el transporte proporcionado por el Distrito se retrasará hoy, 21 de enero, hasta 15 minutos. Si este retraso es problemático, debe estar preparado para hacer arreglos alternativos para recoger a su hijo. Si algo cambia, lo actualizaremos con más detalles tan pronto como tengamos información más concreta.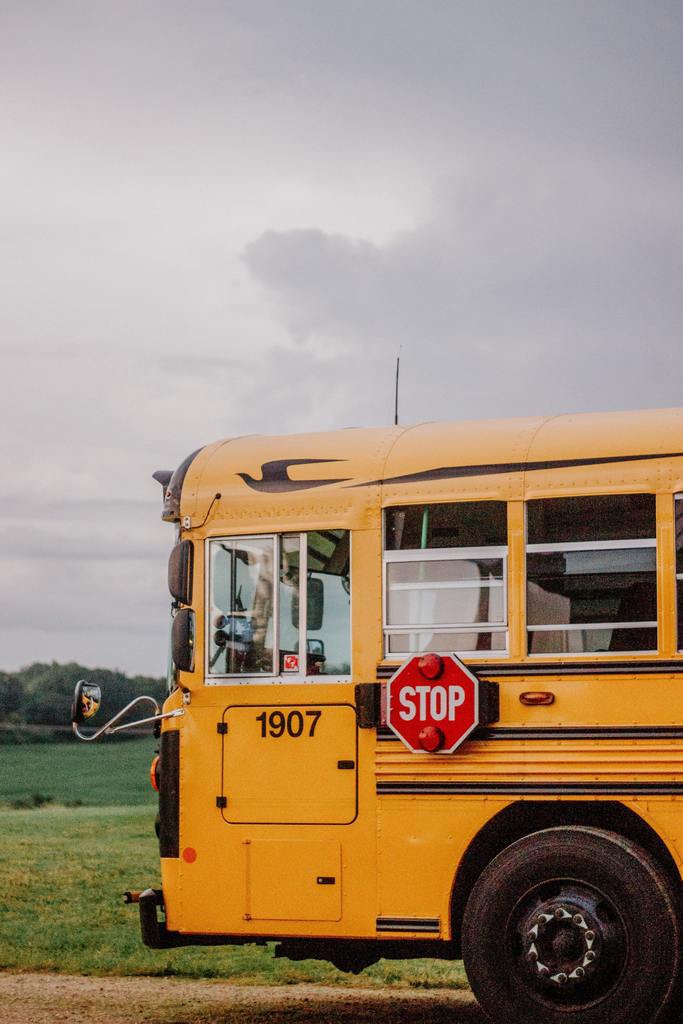 Please see the latest update regarding the Health Order limiting spectators at indoor and outdoor events.
https://5il.co/14j8h
Consulte la última actualización sobre la orden de salud que limita la cantidad de espectadores en eventos bajo techo y al aire libre.
https://5il.co/14j8g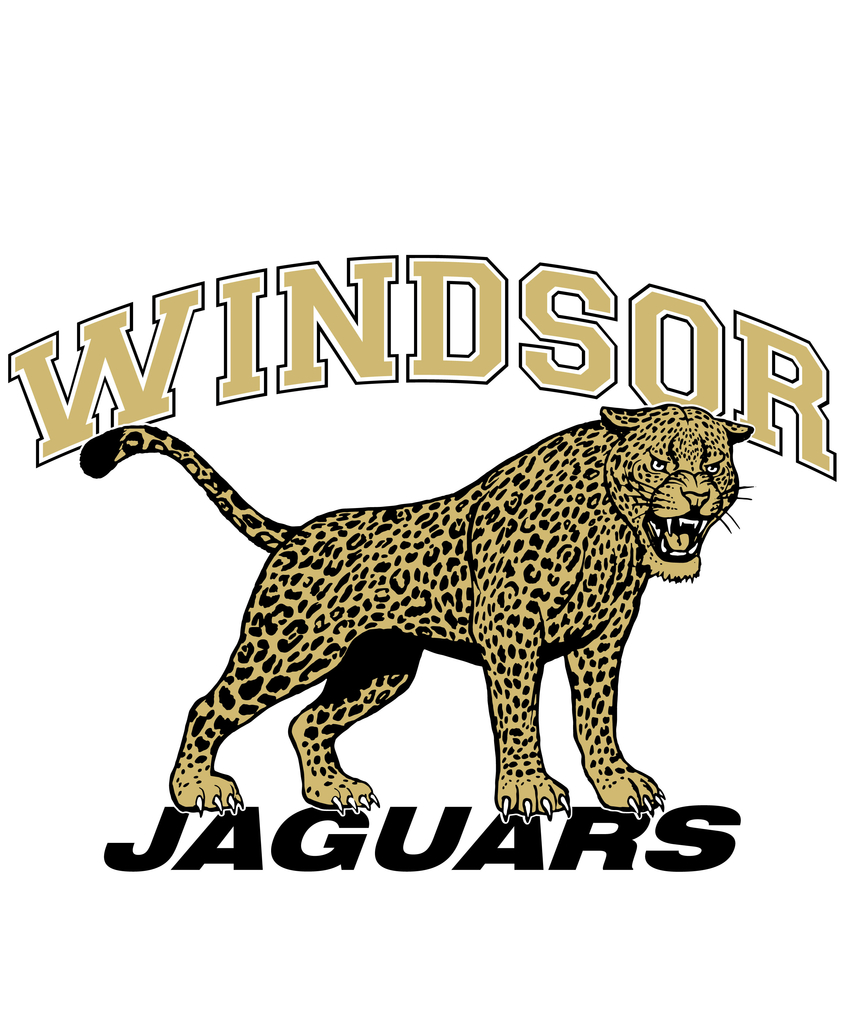 Due to an unforeseen staffing shortage, our testing clinic at Windsor Middle School will close at 1 p.m. tomorrow, Jan. 19. We apologize for any inconvenience. Debido a una escasez imprevista de personal, nuestra clínica de pruebas en Windsor Middle School cerrará a la 1 p.m. mañana, 19 de enero. Disculpe las molestias.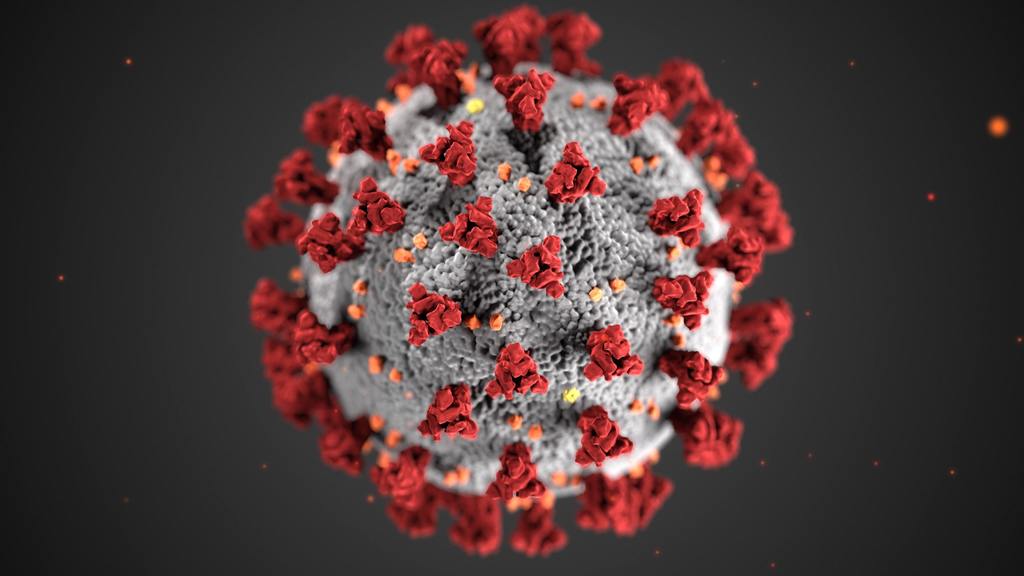 The federal government has opened its at-home COVID test ordering platform. Go to
https://www.covidtests.gov/
to get up to four antigen tests that will be delivered to you in 7 to 12 days.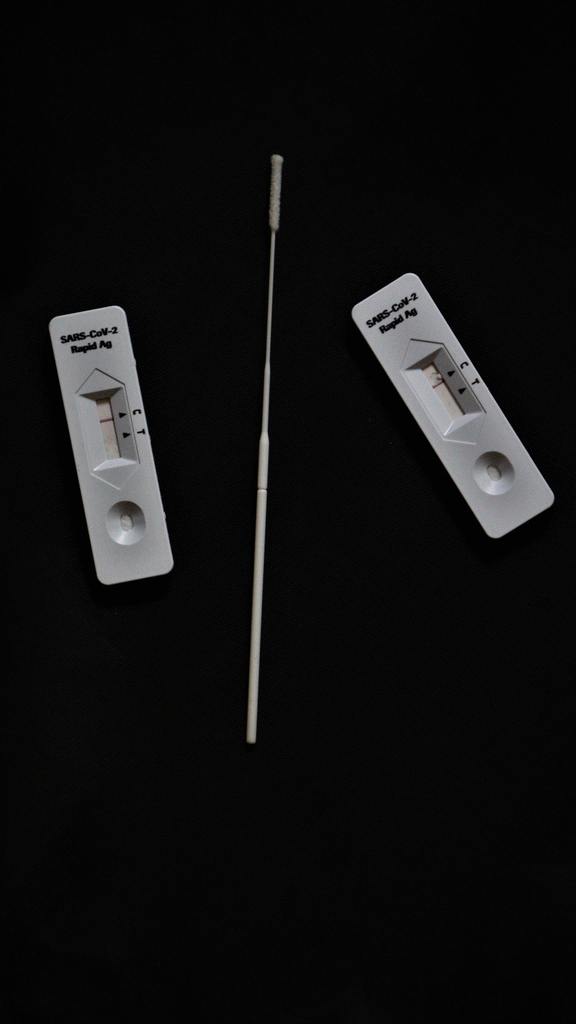 Schools will be closed next Monday (1/17) and Tuesday (1/18), but our COVID testing locations will be open as usual, with Monday at Windsor High School and Tuesday at Cali Calmecac. Hours of operation will be the same: 7:30 a.m.-2:30p.m. Las escuelas estarán cerradas el próximo lunes (1/17) y martes (1/18), pero nuestros lugares de prueba COVID estarán abiertos como de costumbre, el lunes en Windsor High School y el martes en Cali Calmecac. El horario de atención será el mismo: de 7:30 a. m. a 2:30 p. m.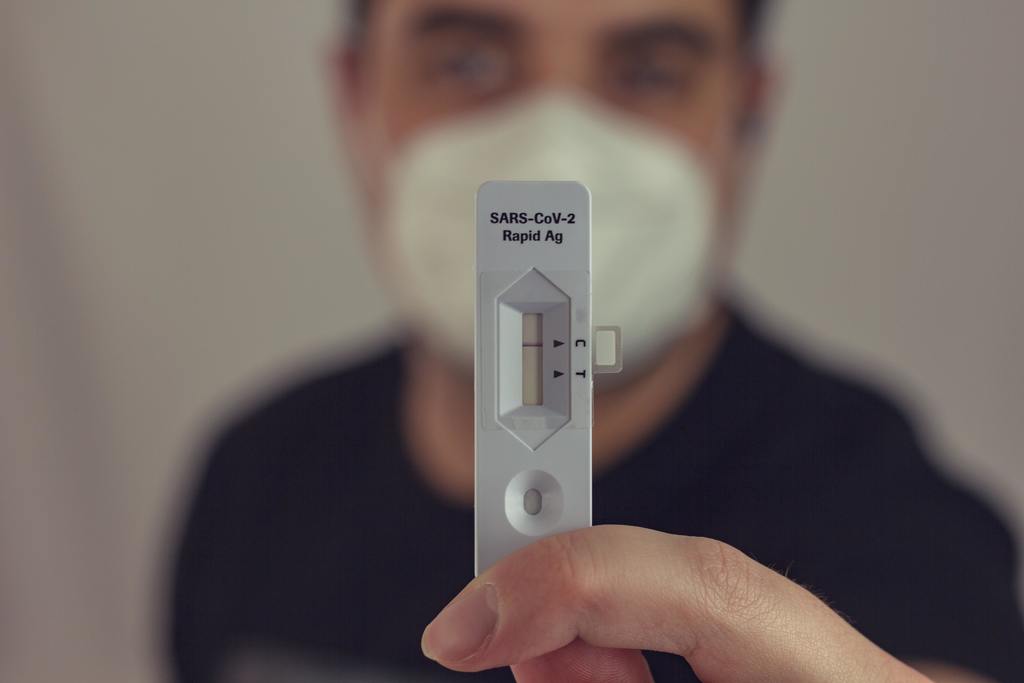 We are aware of a developing situation with student and staff email accounts. Our Tech Department is currently assessing the situation, and we believe we have stopped the outflow of messages. We are still assessing the causes of the issue and the perpetrators. Students, please note, anyone found to be involved in the current incident will be subject to disciplinary action. We will provide more details and information as they become known. Somos conscientes de una situación en desarrollo con las cuentas de correo electrónico de los estudiantes y el personal. Nuestro Departamento de Tecnología está evaluando la situación actualmente y creemos que hemos detenido la salida de mensajes. Todavía estamos evaluando las causas del problema y los perpetradores. Estudiantes, tengan en cuenta que cualquier persona que se encuentre involucrada en el incidente actual estará sujeta a medidas disciplinarias. Proporcionaremos más detalles e información a medida que se conozcan.

Dear Windsor Families and Community: Due to an unforeseen staffing issue, we are having to close today's COVID testing clinic early, effective immediately. We anticipate being to reopen as planned tomorrow, though we will notify everyone if that is not the case. We apologize for any inconvenience and thank you for your understanding. Windsor Unified School District Estimadas familias y comunidad de Windsor: Debido a un problema de personal imprevisto, tenemos que cerrar la clínica de pruebas de COVID de hoy temprano, con efecto inmediato. Anticipamos que reabriremos según lo planeado mañana, aunque notificaremos a todos si ese no es el caso. Pedimos disculpas por cualquier inconveniente y gracias por su comprensión. Distrito Escolar Unificado de Windsor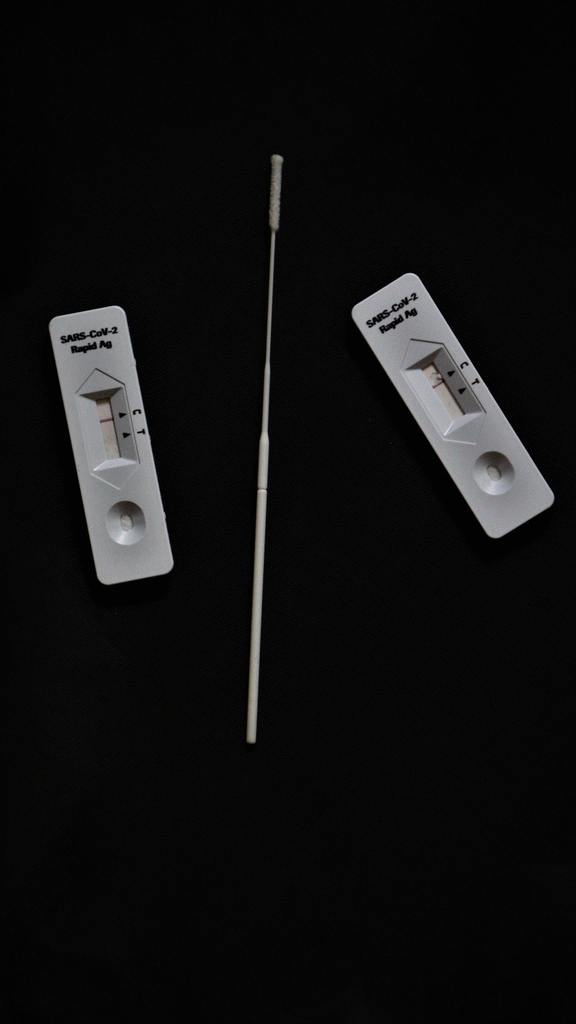 The LCAP Core Committee is still looking for members! Come get in on the action to help us identify district needs and be a partner in planning how and where the district allocates its funding! We need families, students, staff members and folks from the wider community of Windsor from all walks of life, so please join us on this important committee. We will begin holding monthly meetings in January 2022 and will continue through April or May 2022. Commitment to attending all 4-5 meetings is highly encouraged. This is an opportunity to make a direct impact on the future of our schools and students. All meetings will run from 5:30 to 7:30 PM. A light dinner will be served (if held in person) and Spanish translation will be provided. The venue is still to be determined, but meetings will take place on the following days: Thursday, January 27th Thursday, February 24th Thursday, March 15th Wednesday, April 20th Wednesday, May 11th (if needed) Come join the fun! Please send your interest and/or questions to Lisa Saxon, Director of Educational Services at
lsaxon@wusd.org
. ¡El Comité Central LCAP todavía está buscando miembros! ¡Únase a la acción para ayudarnos a identificar las necesidades del distrito y sea un socio en la planificación de cómo y dónde el distrito asigna sus fondos! Necesitamos familias, estudiantes, miembros del personal y personas de la comunidad más amplia de Windsor de todos los ámbitos de la vida, así que únase a nosotros en este importante comité. Comenzaremos a realizar reuniones mensuales en enero de 2022 y continuaremos hasta abril o mayo de 2022. Se recomienda encarecidamente el compromiso de asistir a las 4-5 reuniones. Esta es una oportunidad para tener un impacto directo en el futuro de nuestras escuelas y estudiantes. Todas las reuniones se desarrollarán de 5:30 a 7:30 p. m. Se servirá una cena ligera (si se realiza en persona) y se proporcionará traducción al español. La sede aún está por determinar, pero las reuniones se llevarán a cabo los siguientes días: Jueves 27 de enero jueves, 24 de febrero jueves, 15 de marzo miércoles, 20 de abril Miércoles 11 de mayo (si es necesario) ¡Únete a la diversión! Envíe su interés y/o preguntas a Lisa Saxon, Directora de Servicios Educativos a
lsaxon@wusd.org
.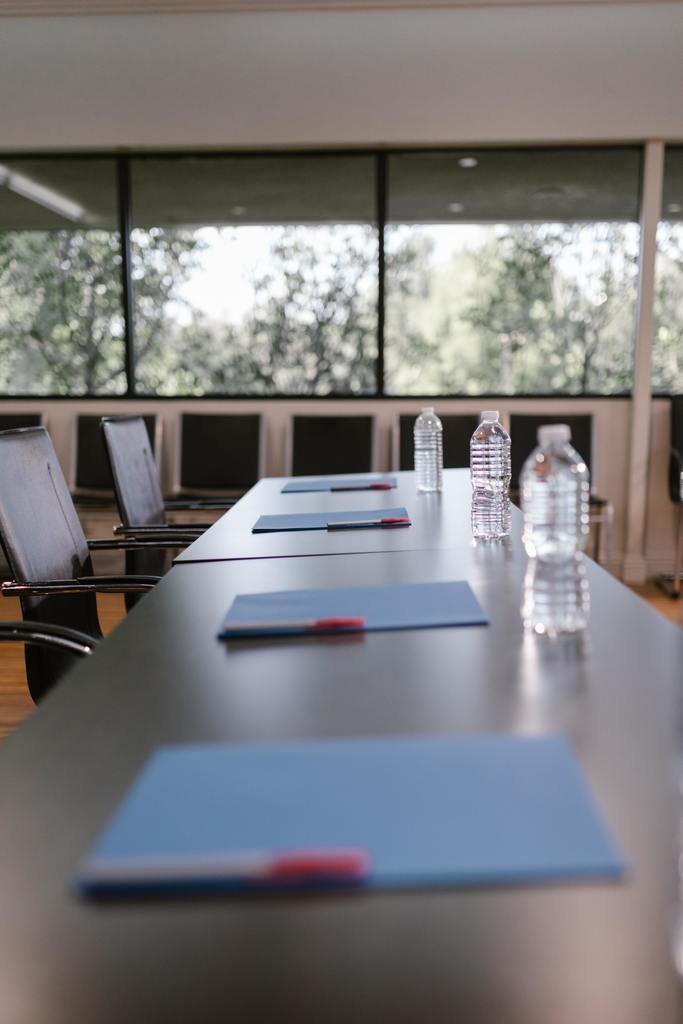 WUSD testing facility to close early today. Unfortunately, as predicted in our notice home yesterday, we have run out of tests for today. The testing facility will close at noon, but we do anticipate reopening as normal tomorrow, Thursday, Jan. 6. Please check our COVID portal for locations and times.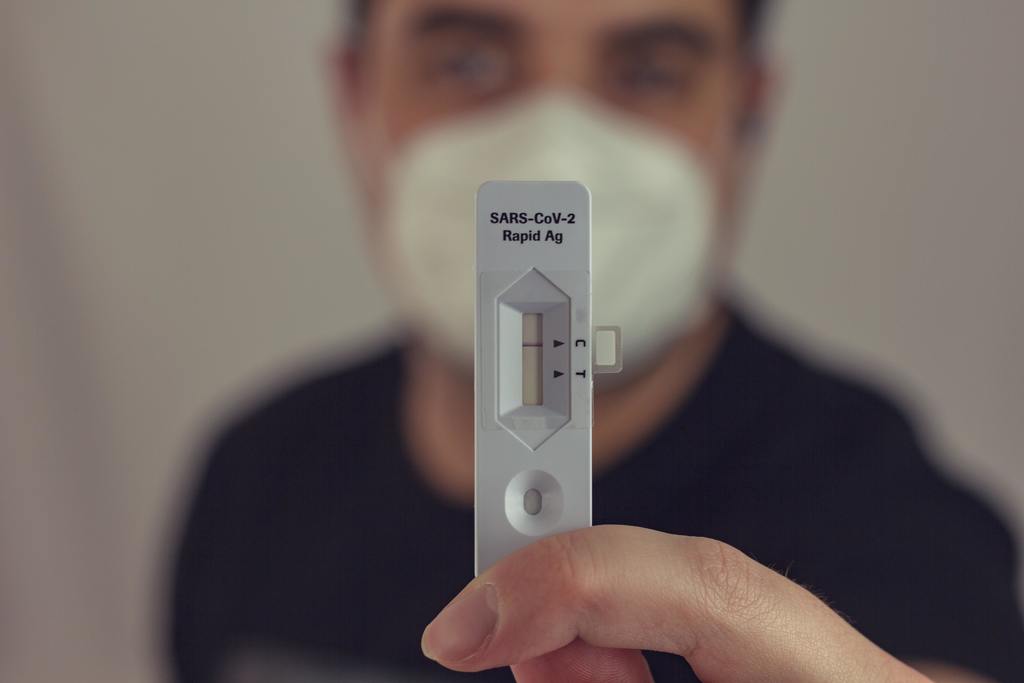 We will be closing the survey on Jan. 5, 2022, so if you haven't had an opportunity to fill it out, please do so. Cerraremos la encuesta el 5 de enero de 2022, así que si no ha tenido la oportunidad de completarla, hágalo. To all current and former Windsor Unified School District Families: Please take a few minutes to complete this survey about your experience with the Windsor Unified School District. We are trying to help understand how best to serve all of our families. English:
https://forms.gle/755WwzPNQvinZZRo8
A todas las familias actuales y anteriores del Distrito Escolar Unificado de Windsor: Tómese unos minutos para completar esta encuesta sobre su experiencia con el Distrito Escolar Unificado de Windsor. Estamos tratando de ayudar a comprender la mejor manera de servir a todas nuestras familias. Spanish:
https://forms.gle/6EJAR1uVLueE9B1KA
Please share! ¡Por favor comparte!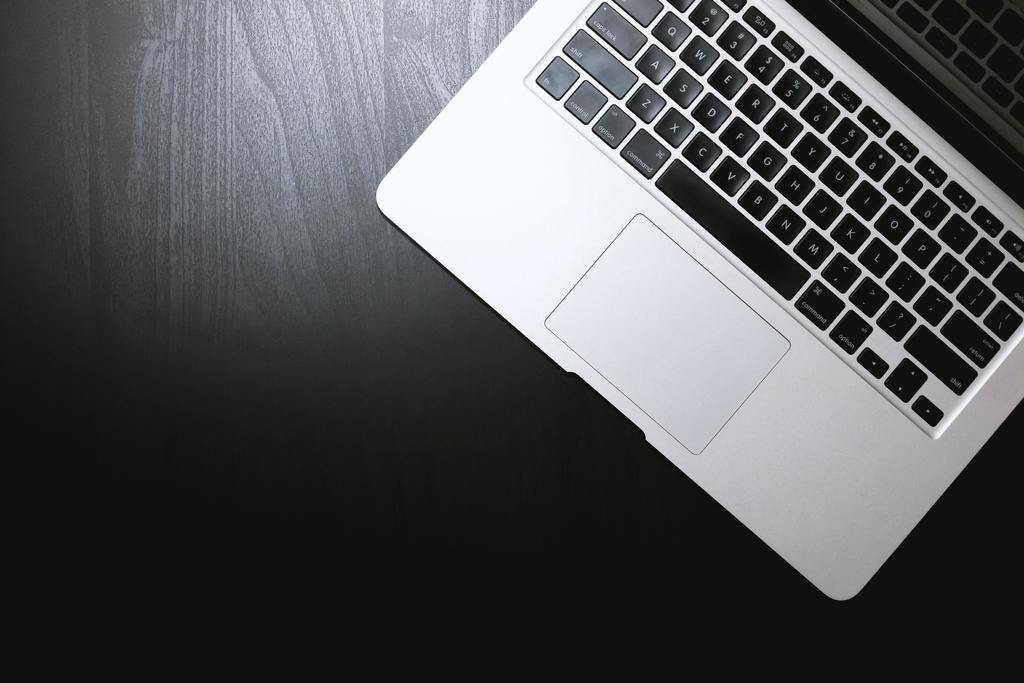 Please see the latest from our Superintendent regarding the start of school, and COVID testing. English:
https://5il.co/13mt3
Consulte las últimas noticias de nuestro Superintendente sobre el inicio de clases y las pruebas COVID. Spanish:
https://5il.co/13mt4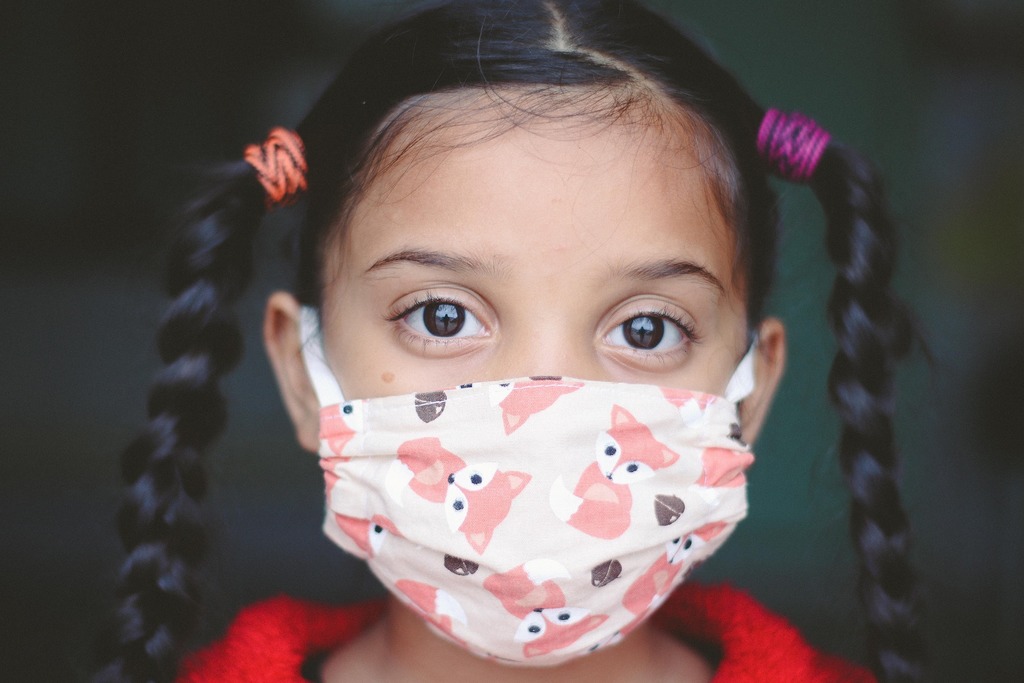 Hello everyone and Happy New Year! We have been made aware of rumors concerning schools not opening in person on Monday in Sonoma County. While we cannot speak for other districts, we can say that school will open in person, as planned on Monday, January 3 here in Windsor. We'll see you all then, in the meantime, enjoy the final days of your brea.

Congrats to our new school board president, Rich Carnation, who was elected unanimously by his fellow board members for 2022. He will be joined by vice president Bill Adams.

Please see the attached letter regarding rainy day protocols at Mattie Washburn.
https://5il.co/136h4
Consulte la carta adjunta sobre los protocolos para días de lluvia en Mattie Washburn.
https://5il.co/136h5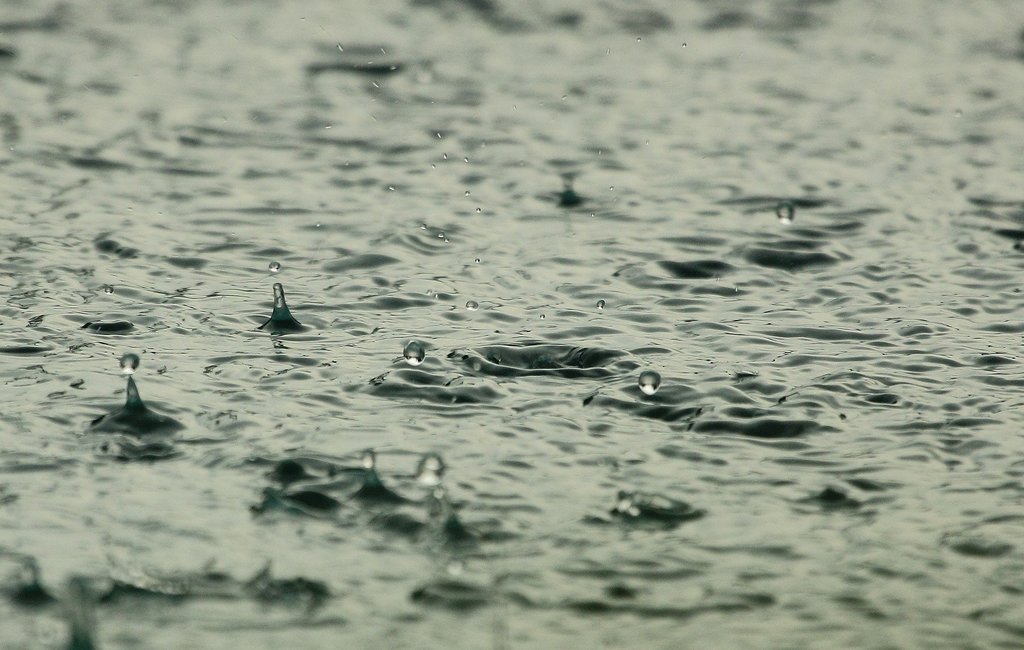 Happy Holidays!

Awesome event with out WHS Circle Keepers in January for 8th-12th grade families. Information and event available in both English and Spanish.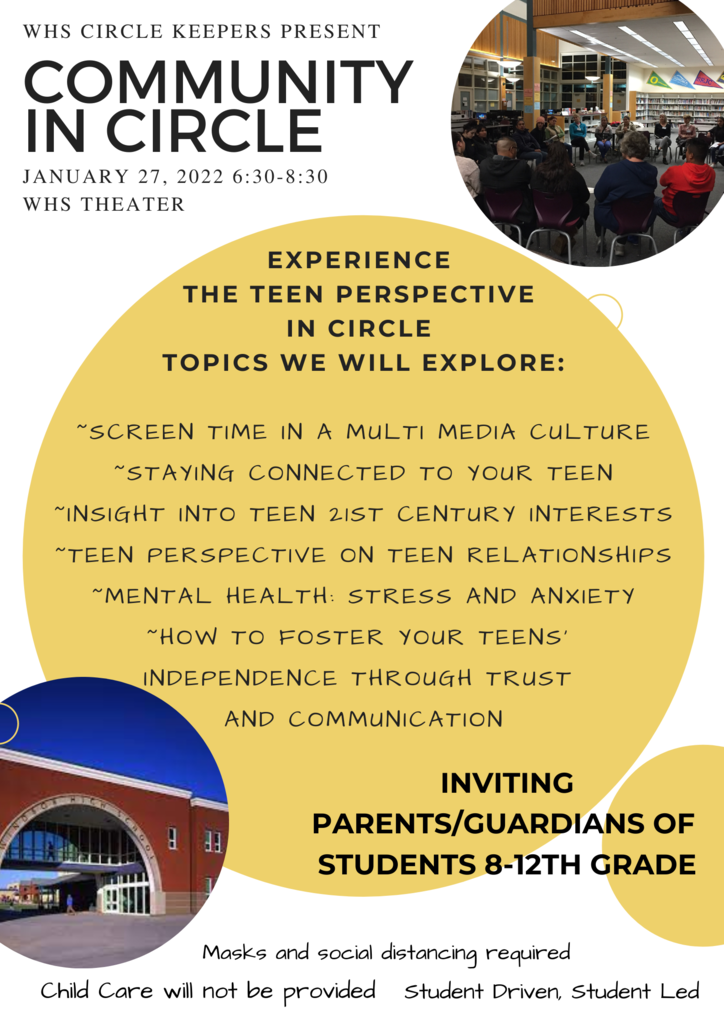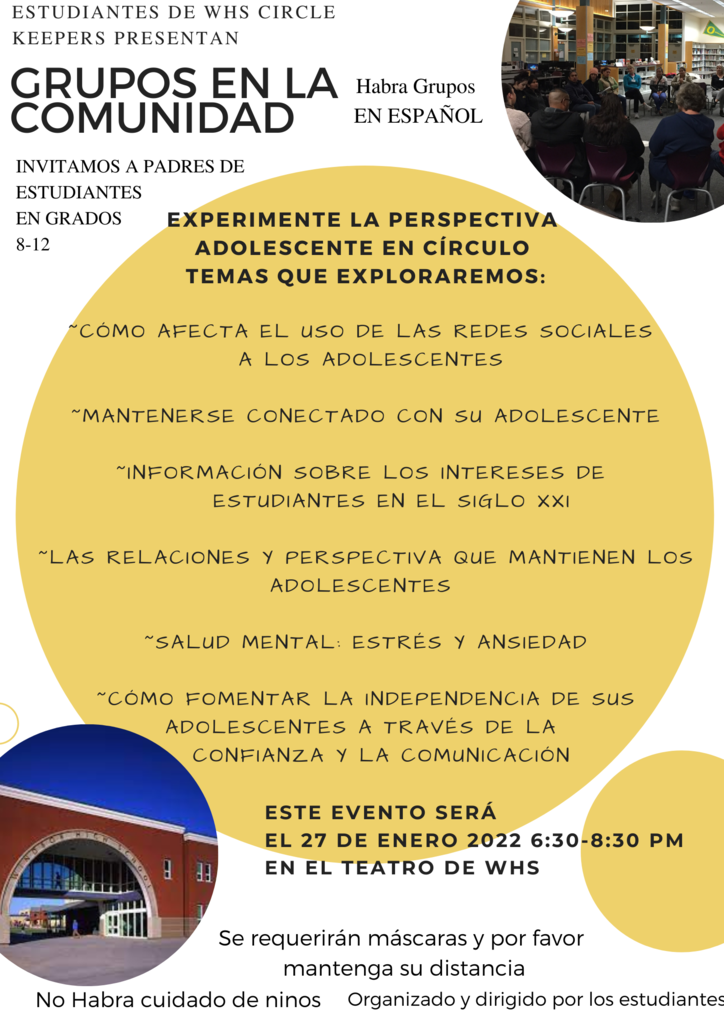 The LCAP Core Committee needs members! Come get in on the action to help us identify district needs and be a partner in planning how and where the district allocates its funding! We need families, students, staff members and folks from the wider community of Windsor from all walks of life, so please join us on this important committee. Want to be a part of the LCAP committee or have questions? Email Lisa Saxon, Director of Educational Services at
lsaxon@wusd.org
.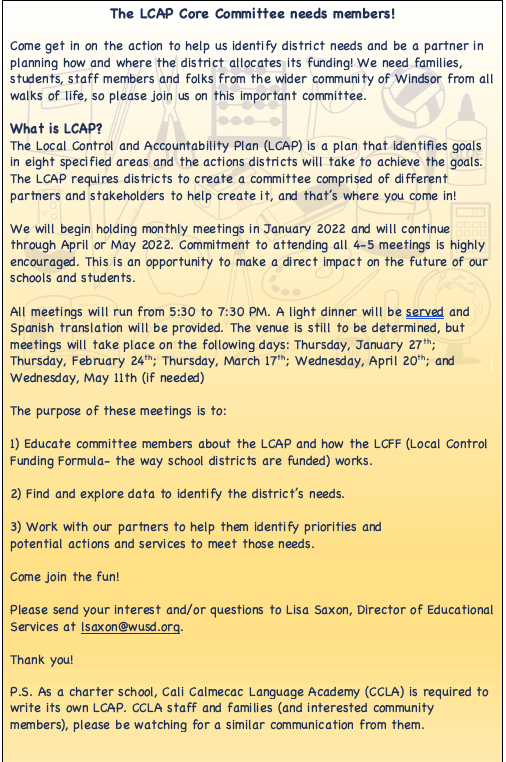 No new video this week due to the Thanksgiving Holiday, but we've updates our COVID case and quarantine numbers. See you next week and have an awesome holiday. No hay ningún video nuevo esta semana debido a las vacaciones de Acción de Gracias, pero hemos actualizado nuestros números de casos de COVID y cuarentena. Nos vemos la semana que viene y que pases unas vacaciones increíbles.
https://sites.google.com/wusd.org/covid19/home