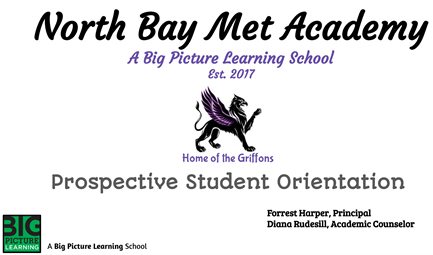 20-21 Information Meetings
Diana Rudesill
Friday, August 23, 2019
The Application Process - North Bay Met Academy engages students and their families in all aspects of the application, admission, and educational process. In order to apply to NBMA, students and their parent(s) and/or guardian(s) must complete the following required steps:
Step 1: Attend a NBMA information session. SEE ATTACHED FOR DATES Learn about the Big Picture philosophy and the different opportunities within the NBMA program. Both parents/guardians and student must attend.
Call 837-7771 x 2500 to reserve your spot. Applications will be distributed at the meeting to those interested in attending a shadow day (Step 3).
Step 2: Complete an application. Including the Request for Release of Academic & Special Services Records. The completed application will secure your students spot for a shadow day (Step 3).
Step 3: Attend a Shadow day. Prospective students visit NBMA: meet the staff, experience the various teaching styles, get a feel for the campus, learn more about the program. Only students with completed applications will be scheduled for a shadow day.
Step 4: Enrollment. Families are notified regarding enrollment status and walked through the enrollment process. For students with an IEP, a transitional meeting must be held at currently enrolled school prior to enrolling at NBMA.